--Crowds of people fill the streets around the palace. screams for answers to questions about Keldor and the deaths of the world mightest warriors ring out--
he-man steps from the shadows and raises his sword high to the air. his blonde hair blowing in his face the glare from his sword almost blinding.
people quite to a dead stare as if theyre mesmorized but his swords might.
MAA steps out and speaks to the people. he-man then sheaths his sword
MAA
People please, we all want answers. we all want Keldors return. but sadly we believe he too has fallen to the great darkness.
CROWD
why cant our great hero protect us? why do most fear him?
MAA
How could you say such things about our ruler? with out He-man we too would be victim to the darkness as well. Keldor will not return. face it people of Eternia ...Keldor is dead.
rushing from behind keldor pushes Maa over the balcony-
KELDOR
keldor lives!
Keldor reaches for He-mans armor ripping from his chest to reveal robotic interworkings.
KELDOR
Your great He-man this is nothing more than a faker.
-smashing Faker in the chest with Maa fallen mace. faker falls sparking to the ground-
-the crowd stares is complete disbelief as to the truth thats been revealed to them. their disbelief turn to fright as a blacken being falls to the balcony from the sky as a gray falcon passes over head his red eyes bear the likeness spoken about the darkness-
-screams ring out from all directions as the people begin panicing, running in all directions-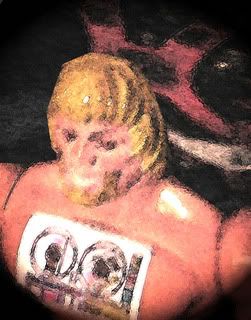 CROWD MEMBER
THE DARKNESS!!!
-the black being begins to raise his red hair begins to part and fall into place and an emblem on his armor begins to reveal itself-
-Keldor grabs the black and red being holding him in a chokehold with fakers sword. revealing his identity through the darkness the features are clear this darkness is their...was their hero. the darkness was HE-MAN-
KELDOR
The charade is up He-man! look people of eternia. This is your mighty hero.
-as those final words pass keldor is attacked by zoar form goddess and is thrown back.
-HEMAN AND KELDOR CLASH WEAPONS MOCK POWER SWORD TO HAVOC AXE-
(mock sword cracking from pressure)
-through sheer will power keldor over powers he-man bringing him to one knee-
KELDOR
this ends heres he-man!
DEMONIA
i beg to differ.
-DEMONIA grasps Keldor by the sides of his head blasting him with her dark magik-
-Goddess reaches from the balcony entrance grabbing Keldors face overhwhelming him with the magik of Angelface-
-the tremendous magik begins burning away the layers of his face and his hair singes and his skin melts from his skull-
KELDOR
:screams of agony:
-zodac cosmic enforcer appears wrapping his arms around keldor and teleporting away-
-FINAL SHOT-
-GRAYGODDESS and DEMONIA both raise thier staffs with he-man centered power sword rasied to the skies magik power flowing upward turning the planet dark and evil-
-
HE-MAN:
"people of eternia! watch as your last hope dies here before you."
KELDOR
THE CONFRONTATION!